Paulinho & Coutinho's Brazil heroics leave Barcelona dreaming
The pair might just be lining up together at Camp Nou after all, and they are a duo who can provide the goals from midfield Barca so sorely need
On a night where Alexis Sanchez, Luis Suarez, Lionel Messi, Neymar and Edinson Cavani all drew a blank, there was a goal for one of South America's more unfamiliar scoring presences. Paulinho kept up his impeccable record in front of the net for Tite's Brazil and alongside Philippe Coutinho drew smiles from more than one Barcelona fan in the process.
Paulinho stood out, rather unfairly, as one of the more-maligned transfers of the window that slammed shut everywhere but in Spain on Thursday. Unfairly because the roving midfielder has proved himself a fierce, proficient competitor throughout his career.
A disastrous spell at Tottenham is the exception that does not prove the rule. Paulinho was the inspiration behind Corinthians' 2012 Copa Libertadores triumph and made himself a cult hero with Guanghzhou Evergrande with his consistently excellent performances.
Brazil, too, know that they can count on the 29-year-old when they need inspiration and the likes of Neymar and Gabriel Jesus cannot provide it. Thursday's strike to open the scoring in a 2-0 victory over Ecuador was his fifth of this World Cup qualifying campaign, putting him level with Paolo Guerrero and James Rodriguez in the scoring charts and, incredibly, just one behind Neymar himself.
The goal itself was typical Paulinho. Lurking near the penalty spot for a corner after Brazil had fruitlessly tried to break down their opponents for almost 70 minutes, the midfielder anticipated perfectly the flight of the ball to leave himself open with just goalkeeper Maximo Banguera in his path. Banguera had no chance as Paulinho fired home, opening up the game and sending the Selecao on the way to a ninth straight qualifying victory since Tite took over.
If the midfielder's impact was pure industry and timing, Coutinho added a touch of class to end the game as a contest. Bursting in from midfield, the Liverpool playmaker arrived perfectly to latch on to Gabriel Jesus' header after the striker had tormented his marker with a beautiful flick. Coutinho barely blinked as he fired past Banguera, rich reward for an accomplished turn pulling the strings from the middle.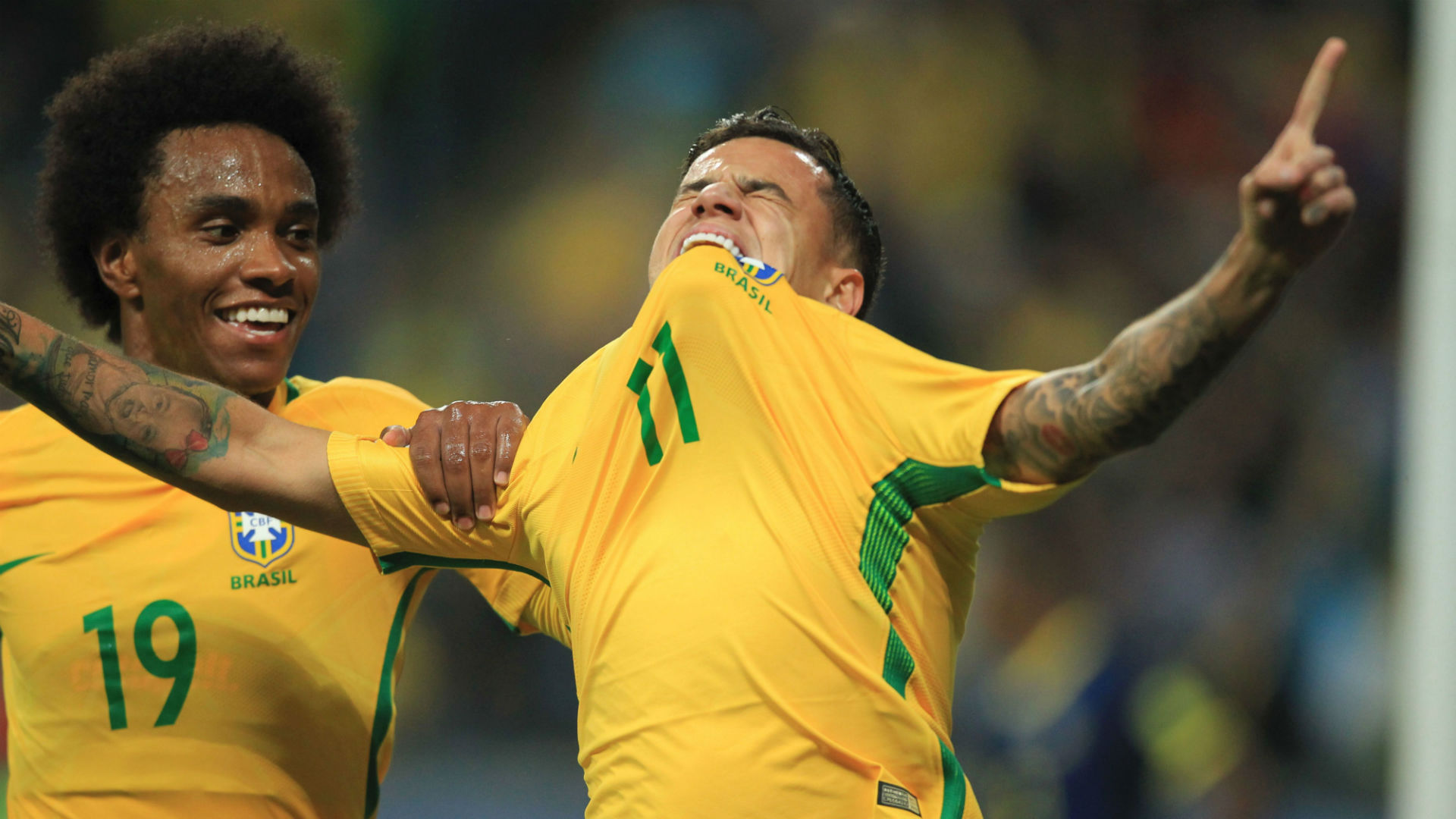 Industry and art: Paulinho and Coutinho represent two aspects of the game from which Barcelona would surely benefit. One is already on board, while the Catalans are gearing up for a final offensive on Friday to twist Liverpool's arm and force the sale they so dearly desire. In the Brazil pair, they will have a base in midfield that has been sorely lacking in recent years.
Paulinho's set-piece prowess in particular can only enthuse a team that is historically inept, Messi's free-kick bombs notwithstanding, at inventing goals from dead-ball situations. While it may be premature to say the Brazilian could prove their answer to Sergio 'Last Minute' Ramos, he is another weapon in an armoury that has become severely limited in range.
An overwhelming percentage of Barca's goals have come from just three men in recent years, the famed MSN that was so rudely broken up with Neymar's exit to Paris Saint-Germain. Ousmane Dembele covers that base on the left side of the attack, but the MSN alone was not enough to deliver titles last year and this modified version may not be enough this time round.
The club need a new approach, and a new angle of attack that can start further down the pitch if those up front are misfiring. Real Madrid have that in spades; now with Paulinho and, whisper it quietly, Coutinho, Barca will have two midfielders that know exactly where the goal is.